PROFESSIONAL AUDIO REPAIR & ORGAN SERVICE Since 1982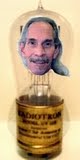 Ross became intrigued with electronics at an early age, despite several high-voltage mishaps. He obtained his radio license in 1961 having successfully bamboozled the FCC into believing he actually knew something. In the US Air Force he graduated from the PMEL school and proceeded to calibrate and repair more electronic measuring devices than he cares to remember. Returning to civilian life, he became an itinerant musician practicing his own brand of syncopation (an irregular beat from bar to bar) After tiring of the glamor & glitter of stardom, he decided to combine his love of electronics and music by establishing a shop to repair professional musical equipment. RossTronics opened in 1982 in Durango CO; and moved to Colorado Springs in 1993. This affords him the opportunity to help "keep the music going" and hob-nob with real musicians.

Herb Trantham (enigmatic co-conspirator) was born at a very young age. He became interested in electronics after discovering he was ineligible to become the Sheik of Araby. After graduating from the US navy, he concentrated on organ repair for many years – only avoiding spleens and gallbladders. He then worked overseas designing analog and digital circuits for aspiring inventors of dubious sensibilities. Tiring of this demanding and demeaning endeavor, he returned to his native soil to resume his curative activities, specializing in keyboards and galactic warp drives. He may be contacted at hbtservices.com for on-site organ service, piano tuning, and other feats of prestidigitation.


Joan (Office Manager) was born in England, raised in Scotland, spent twenty years in Germany, and moved to the US in 1991. She recently attained her US citizenship, much to the chagrin of the State Department. Having worked for several international corporations, she decided to waste her talents managing the business affairs at RossTronics. She is available through her company, Peereless Services, to assist other businesses with office management and bookkeeping, having become QuickBooks certified. She is also available for German translations and sophisticated voice-over projects.

Pooh-Bear (Über-Woofer) has an extensive background in tracking and herding, which eminently qualifies him to head up our Collections Department. He has been known to detect delinquent accounts from a great distance, doggedly pursuing them, relentlessly hounding them, until they're licked. Inquiries concerning cinematic roles, TV appearances or modeling shoots should be directed to his talent agency.